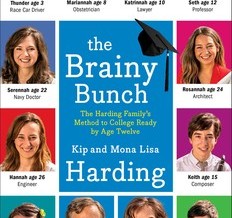 Last week I read a book, a whole book.
(Pause for applause.)
Okay, I'm not the veracious and speedy reader that my wife, Ruth, and daughter, Marissa, are. I pretty much stick to professional articles and only dive into an actual book if I anticipate getting some great value from it. It turns out I chose well last week.
"The Brainy Bunch: The Harding Family's Method to College Ready at Age Twelve" came to my attention after reading a short article about their ...
Continue Reading →
Share