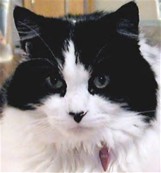 This past weekend was a rather emotional one. Valentine's Day was the 30th anniversary of our engagement to be married. The following day two beloved members of our household passed away.
Over 18 years ago I returned from work to find a long-haired, black and white kitten at our house. Ruth had been approached by children pulling a wagon full of kitties at five-year Tyler's soccer practice. Needless to say this one came home and was aptly named Oreo.
Oreo's beautiful long ...
Continue Reading →
Share